The best reason to call them hoverboards is because some nerds get really emotional and strongly insist they're not hoverboards!
The Wired Magazine article by David Pierce:
http://www.wired.com/2015/06/the-weird-story-of-the-viral-chinese-scooter-phunkeeduck-io-hawk/
Wikipedia:
https://en.wikipedia.org/wiki/Self-balancing_two-wheeled_board
And here is mine: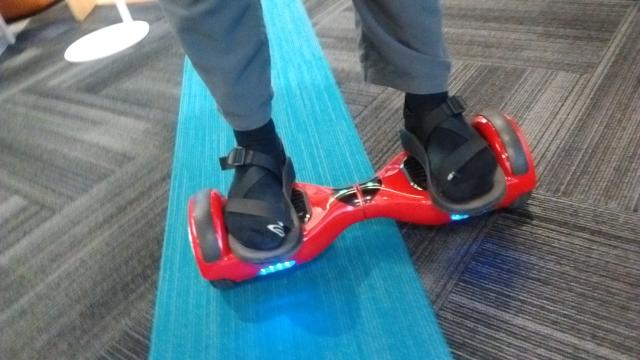 I love it!
I paid $500 to a friend John L. Sokol at Hacker Dojo for it. (He ordered it from someone in China for significantly less.) I did that because I've seen his used at Hacker Dojo by lots of people for over a month, so I know the ones he gets are sturdy, and the battery life is at least 2 hours.
I've seen "Smart Drifterz" for sale in Westfield Valley Fair mall in San Jose. The dude in the mall told me they went for $700, or $900 for the larger model (bigger wheels and plays music). I've also heard they're for sale for $1000 in malls, but I don't really know that. The web site http://smartdrifters.com/ today says $895 for the classic, $1195 for the grand.
(unless otherwise marked) Copyright 2002-2014 YakPeople. All rights reserved.