This is a log of gregr's project to build a soccer ball style camera (see
http://wiki.yak.net/574
).
I posted a gallery of test images and QTVR files here http://wiki.yak.net/832 .
I was asked to put up some pictures of the completed project. Here they are:
The idea is that you can shoot a picture of the whole world in one shot if you had enough cameras jammed into a ball. The soccer ball idea originally would use 32 webcams (one webcam per face). That many cameras would quickly become cumbersome, and who wants to carry around a laptop with a enough usb hubs to take pictures with such a device. Because of these issues I decided to simplify the design.
Im going to use four old point and shoot digital cameras each with a fisheye lens. I began my search for a camera that was low price, 2 or more megapixels, and readily available. I also had to find a fisheye kit specifically for the camera I chose or find a lens and mount it myself.
| | |
| --- | --- |
| | Step 1. Print. Step 2. Cut out. Step 3. Fold a copy of my world! (See bottom of this page for a sample.) |
I found on ebay Olympus was selling a bunch of old-stock fisheye kits. I checked all the cameras that the kit was compatible with and one of the cameras was a 2 megapixel point and shoot that was easy to find used. I bought 4 of the cameras and 4 of the fisheyes.
I decided with 4 cameras putting each camera on the face of a tetrahedron would be the optimal configuration. Each fisheye captures 180 degrees of the world, so with a tetrahedral arrangement I will have plenty of overlap between my 4 images. So, there will be one camera pointing straight up and three pointing down at a 60 degree angle spaced 120 degrees apart. The 120 degree spacing should give me about 30% overlap on the edges of each image (10%-50% overlap is necessary to stitch images together accurately).
Update: I finally received all of my gear! Four of the above cameras ans four of the fisheye lenses.
Prototyping time... I cut out four 8 inch equilateral triangles out of foam and taped them together. To the resulting tetrahedron I attached 3 of the 4 cameras and shot some pictures with the rig...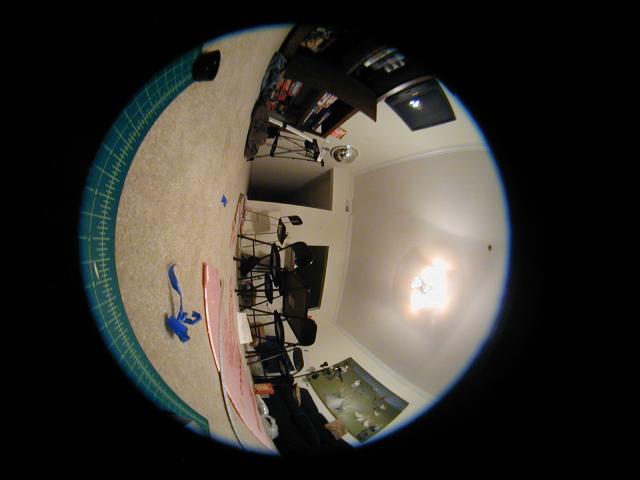 Straight from the camera.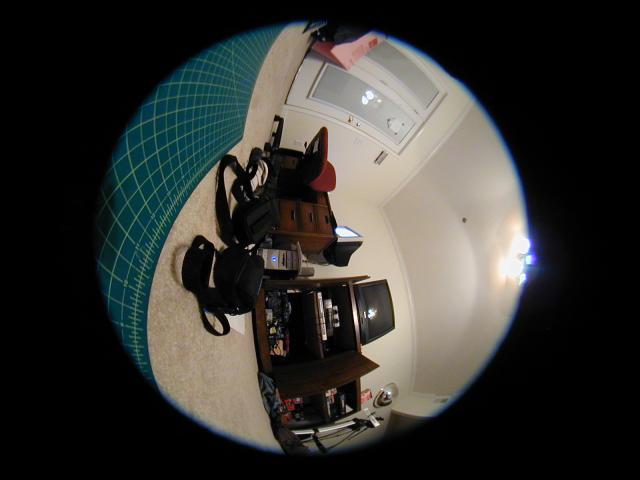 Straight from the camera.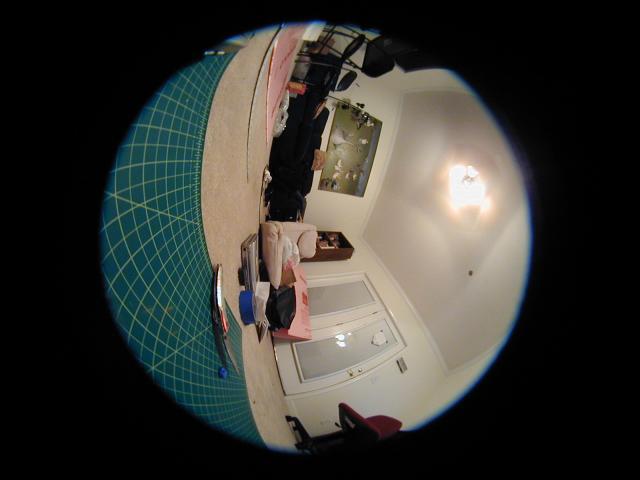 Straight from the camera.
Update: I am having a damn hard time stitching fisheye images. My favorite stitching software is Autopano Pro and it will not stitch fisheye images until the next release version ( 1.4). I have made some attempts to undistort the fisheye images in such a way that Autopano Pro will stitch them properly. None of this worked well.
I am testing some other software to stitch images. So far every other piece of software is harder to use, and I have not gotten great results yet.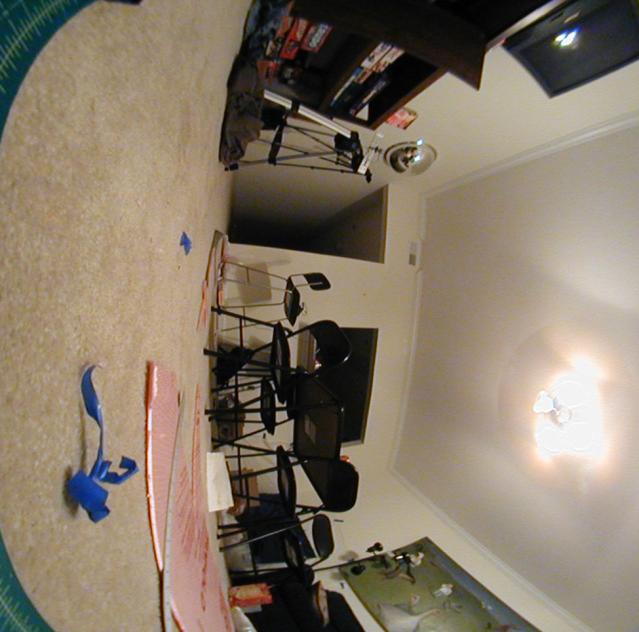 Attempted removal of distortion.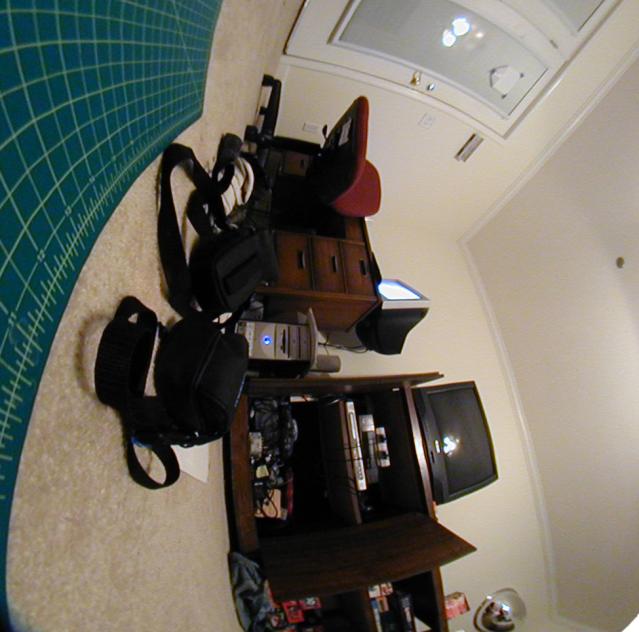 Attempted removal of distortion.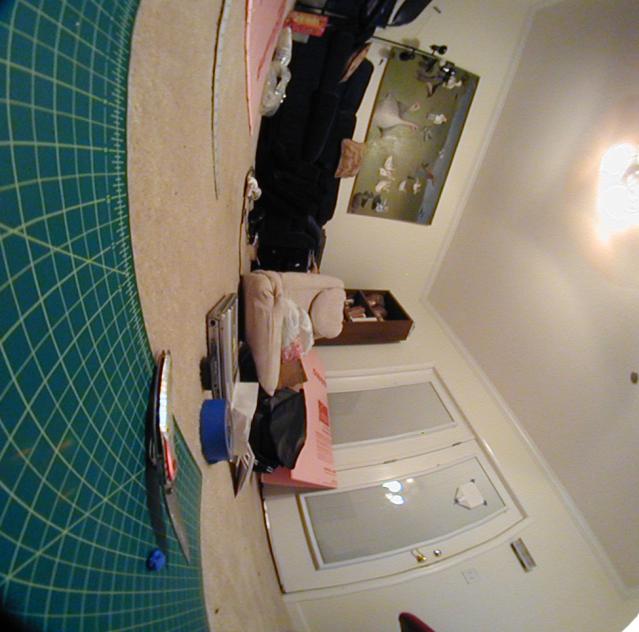 Attempted removal of distortion.

Test stitch.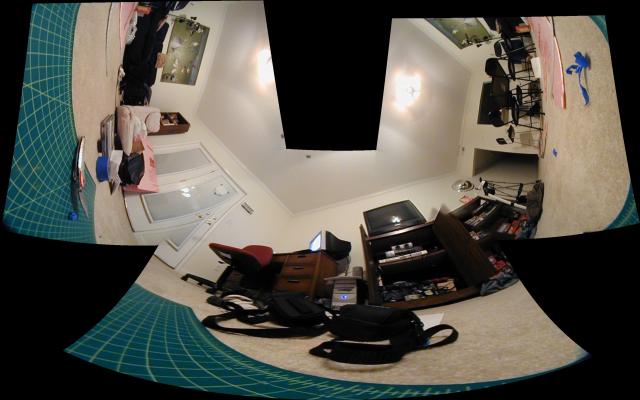 Test stitch.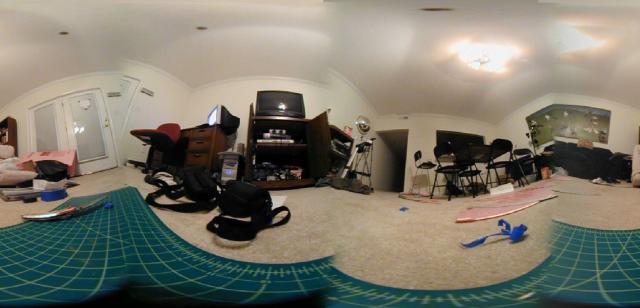 Stitched using a different piece of software. Slightly better...

This is projected onto a cylinder instead of a sphere. This projection makes it a bit easier to check for stitching issues.
Update: I shot this next part with all four cameras. I have gotten some very nice stitches. Check out NewProject.mov And check these beautiful stitches out:
Update: Fold this image into a ball!
(unless otherwise marked) Copyright 2002-2014 YakPeople. All rights reserved.